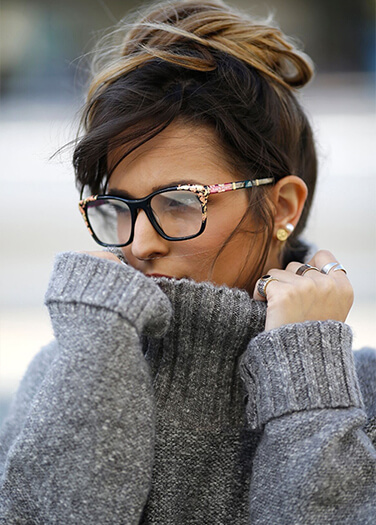 Why Ronit furst?
Each one of Ronit Furst's frames are hand painted. This is what gives them the freedom to produce almost every pattern and color combination that Ronit can imagine. Looking closely one can actually see the paintbrush strokes and the texture of the paint, just like a painting on canvas. After the painting is done the frame undergoes a special coating procedure, which will give it it's finished look – crystal shiny or sandy matt – and which also protects the painting from dirt and other unwanted effects.
The frames are designed to look different from every angle, with fine detail and tiny embellishments, graduated color schemes and asymmetric designs. The ethos of the range is to create quirky, individual styles that capture the wearer's personality.
Ronit furst by Prue Leith
Artist and eyewear designer Ronit Furst, is delighted to announce the launch of their new collection, Prue by Ronit Furst. The exclusive collaboration with entrepreneur, restaurateur and cook Prue Leith, builds on the essence and individuality of Ronit Furst's hand painted collection.
As a long-term wearer of Ronit Furst's hand painted eyewear collection, Prue's unique style, flair and love of colour created the perfect synergy with the designs. Having worn Ronit Furst for 12 years, the collaboration between designer and entrepreneur evolved through Prue's love of Ronit's designs. Together the women have developed an extensive range of over 72 eyewear pieces designed by Ronit for likeminded women who want to infuse their everyday style with the quality and vibrancy the brand are known for.
Prue Leith comments "What inspired me to work with the brilliant Ronit Furst was winning the spectacle Wearer of the Year, with the result that many people, both women and men, complimented me on my glasses and their bold colours, the reaction was really astonishing".
So if you want to see Ronit Furst's range, please come to visit us in Canterbury, at Pybus Opticians, on the Kings Mile.