Beware of Novelty Contact Lenses!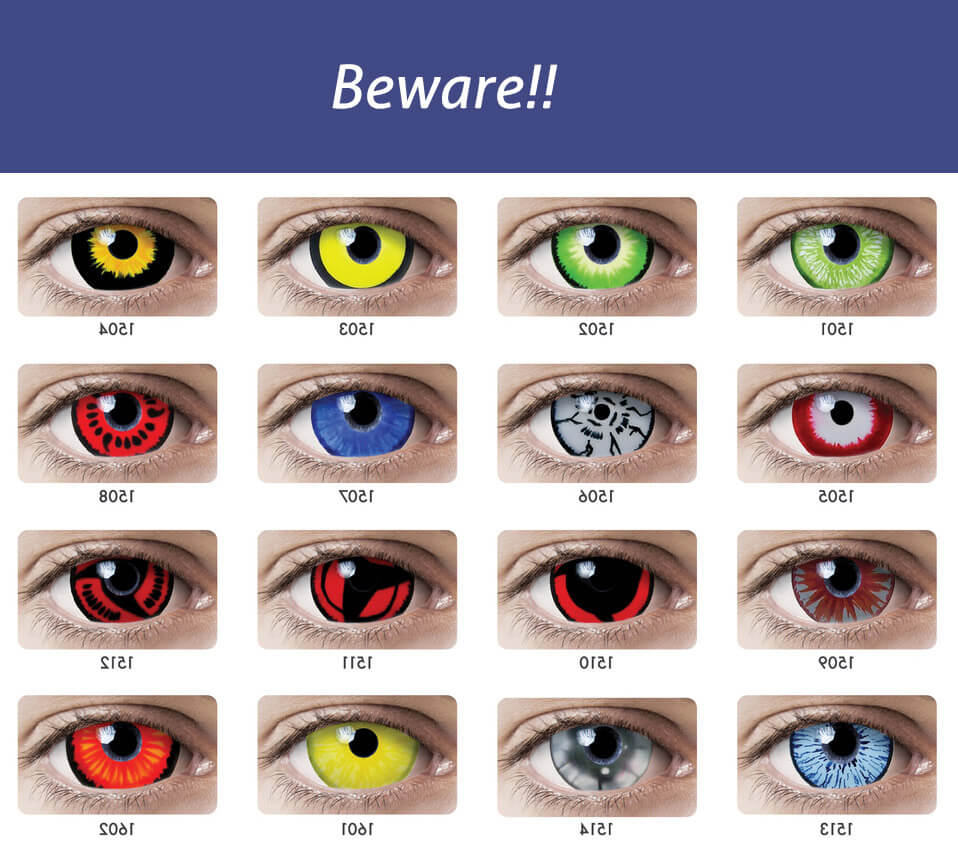 If you're thinking about wearing novelty contact lenses – think carefully! You may be putting your eyes at risk by using lenses bought from a non-reputable source or dare I say it, off the internet! If you use them without the professional guidance of an optometrist, doctor or contact lens optician, you could be in trouble.
Be careful and take note of  the following:
Unlike standard contact lenses, fancy dress lenses are not tailored to your eyes, which can increase the risk of eye health issues. Lenses that are not properly fitted may scratch the eye or cause an infection, so it's important that any contact lenses you wear are fitted by a qualified professional who can give you the appropriate advice on how to use them correctly.
If you are wearing contact lenses of any sort, including novelty lenses, you must make sure that you clean them thoroughly after use and disinfect them with the recommended contact lens solution. Never use tap water, the wrong solution, or lick them – and if they drop on the floor don't simply pop them back in.
You should not share contact lenses with friends, as even quickly trying them on can lead to eye infections.
Although non-prescription lenses are widely available online and on the high street from hairdressers, tattoo parlours and nail bars, it is illegal to sell these lenses without the direct supervision of an eyecare expert.
Driving with novelty lenses at night (even if you wear glasses over the top) is also a potential danger: if the lenses are strongly tinted or opaque they may impair your vision if the hole that you look through does not align with your pupil.
If you experience any eye discomfort when, or after, wearing any type of contact lens you should seek advice from an optometrist, contact lens optician or doctor.
Did you know?
By law fancy dress lenses can only be sold by or under the supervision of a doctor, optometrist or dispensing optician.
Optometrists are primary health care specialists trained to examine the eyes to detect defects in vision, signs of injury, ocular diseases or abnormality and problems with general health. They make a health assessment, offer clinical advice and, when necessary, prescribe spectacles or contact lenses. In addition, optometrists can dispense and supply spectacles or contact lenses.
If you have anymore questions, please feel free to ask us at Pybus!